My 2018 Year in Music: Data Analysis and Insights
This past year has been pretty eventful in music for me. I've attended a couple new festivals, seen shows while traveling, and discovered plenty of new bands. I want to examine the data available to me and contrast it with my memories of the past year.
I've been using Splunk to analyze my music data for the past couple years. You can learn more about what I've learned from that in the past in my other posts, see Reflecting on a Decade of Quantified Music Listening and Best of 2017: Newly-Discovered Music. I also wrote a blog post for the Splunk blog (I work there) about this too: 10 Years of Listens: Analyzing My Music Data with Splunk.
Comparing Spotify's Data with Mine
Spotify released its #2018wrapped campaign recently, sharing highlights from the year of my listening data with me (and in an ad campaign, aggregate data from all the users). As someone that uses Spotify but not as my exclusive source of music listening, I was curious to compare the results with my holistic dataset that I've compiled in Splunk.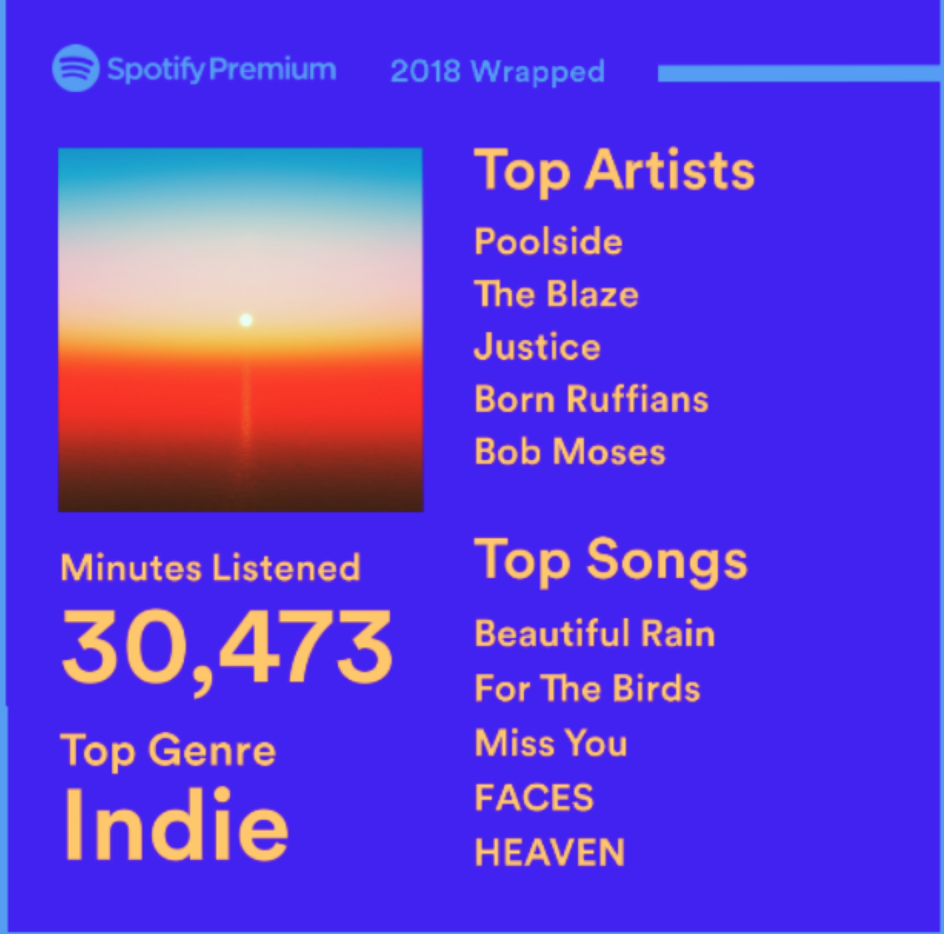 Spotify's top artists for me were somewhat different from the results that I found from the data I gather from Last.fm and analyze with Splunk software.  Spotify and my holistic listening data agree that I listened to Poolside more than anyone else, and was also a big fan of Born Ruffians, but beyond that they differ. This is probably due to the fact that I bought music and when I'm mobile I switch my primary listening out of Spotify to song files stored on my phone.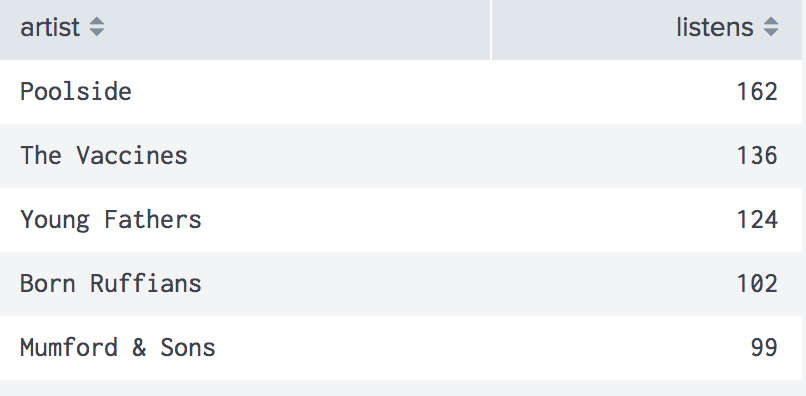 In addition, my top 5 songs of the year were completely different from those listed in Spotify. My holistic top 5 songs of the year were all songs that I purchased. I don't listen to music exclusively in Spotify, and my favorites go beyond what the service can recognize.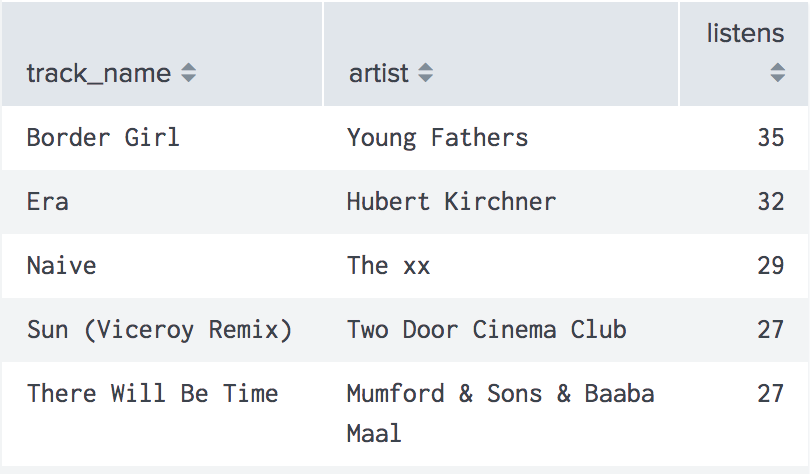 Spotify identified that I've listened to 30,473 minutes of music, but I can't make a similarly reliable calculation with my existing data because I don't have track length data for all the music that I've listened to. I can calculate the number of track listens so far this year, and based on that, make an approximation based on the track length data that I do have from my iTunes library. The minute calculation I can make indicates that I've so far spent 21,577 minutes listening to 3,878 of the 10,301 total listens I've accumulated so far this year (Numbers to change literally as this post is being written).

I'm similarly lacking data allowing me to determine my top genre of the year, but Indie is a pretty reliable genre for my taste.
Other Insights from 2018
I was able to calculate my Top 10 artists, songs, and albums of the year, and drill down on the top 10 artists to see additional data about them (if it existed) in my iTunes library, like other tracks, the date it was added, as well as the kind of file (helping me identify if it was purchased or not), and the length of the track.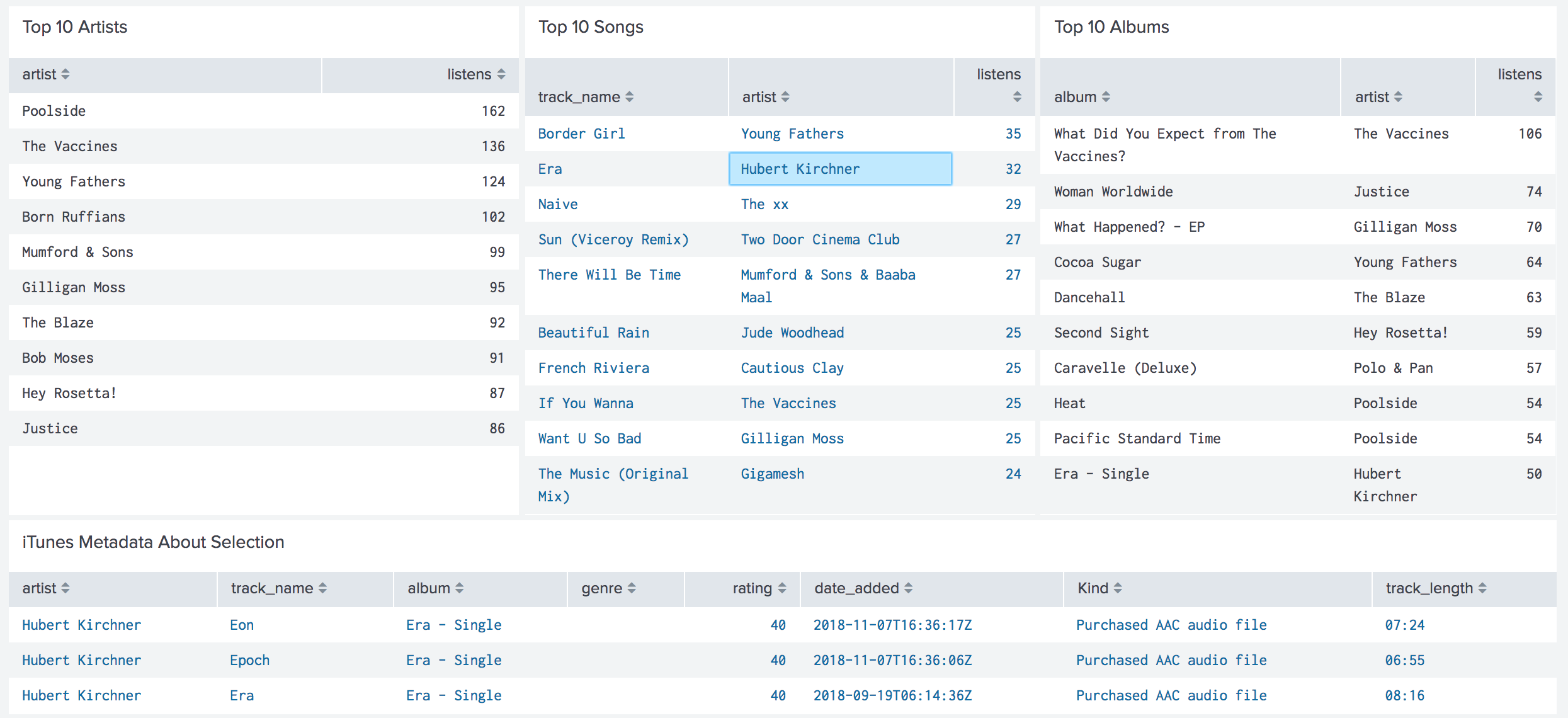 There are quite a few common threads across the top 10 artists, songs, and albums, with Poolside, Young Fathers, Gilligan Moss, The Vaccines, and Justice making consistent appearances. The top 10 songs display obsessions with particular songs that outweigh an aggregate popularity for the entire album, leading other songs to be the top albums of the year.
Interestingly, the Polo & Pan album makes my top 10 albums while they don't make it to my top 10 artist or song lists. This is also true for the album Dancehall by The Blaze. I'm not much of an album listener usually, but I know I listened to those albums several times.
The top 10 song list is more dominated by specific songs that caught my attention, and the top 10 artists neatly reflect both lists. The artists that have a bit more of a back catalog also reveal themselves, given that Born Ruffians managed to crack the top 10 despite not having any songs or albums make the top 10 lists, and Hey Rosetta! makes the top artist and album lists, despite having no top songs.

I purchased 285 songs this year, an increase of 157 compared to the year before. I think I just bought songs more quickly after first hearing them this year, and there are even some songs missing from this list that I bought on Beatport or Bandcamp because they weren't available in the iTunes Store. While I caved in to Spotify premium this year, I still kept up an old promise to myself to buy music (rather than acquire it without paying for it, from a library or questionable download mechanisms) now that I can afford it.
A Year of Concerts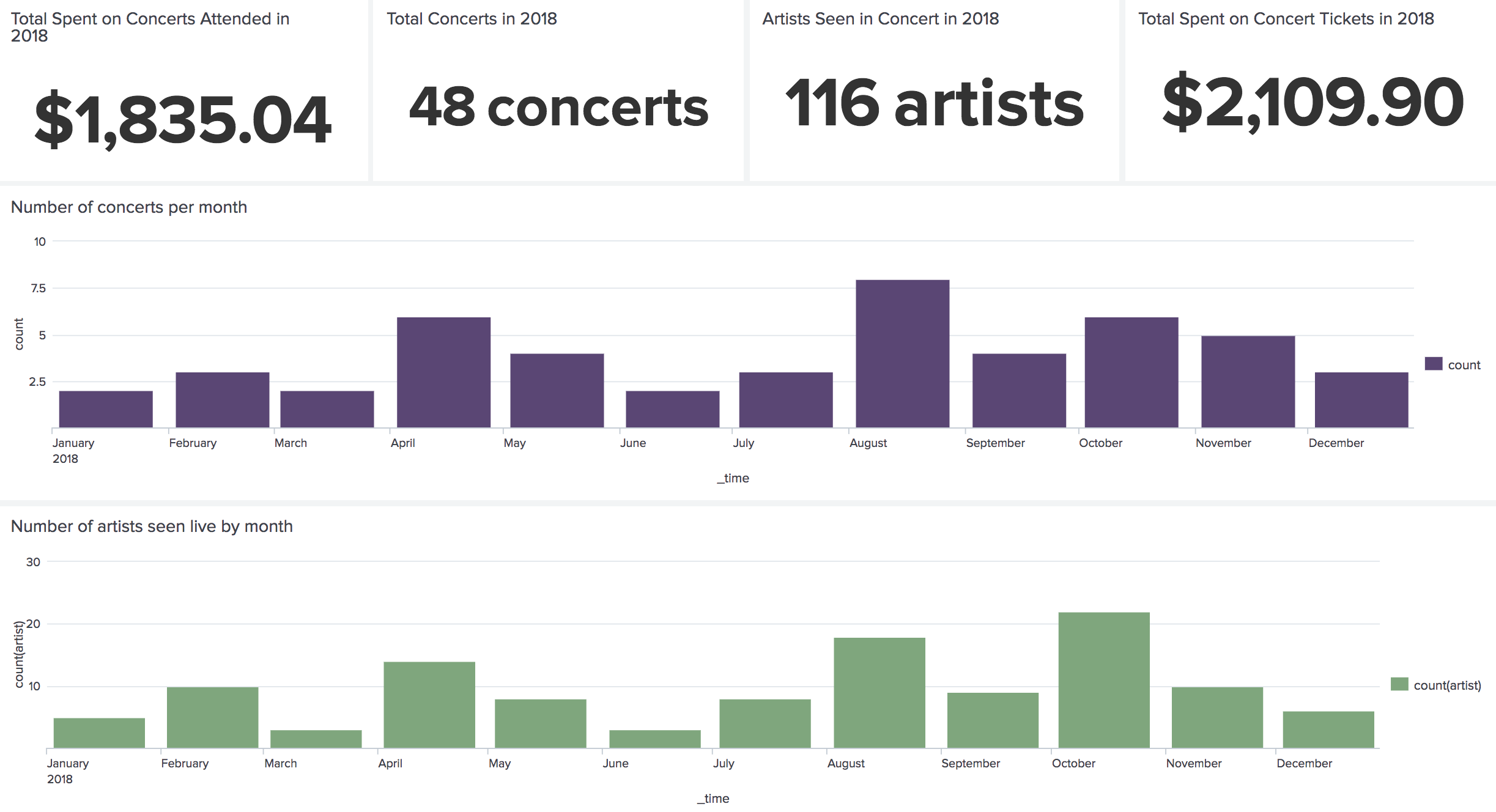 I've been to a lot of concerts so far this year. 48, to be exact. I spent a lot of money on concert tickets, both for the shows I attended this year and for shows that went on sale during 2018 (but at this point, might be happening in 2019). I often will buy tickets for multiple people, so this number isn't very precise for my own personal ticket usage.
I managed to go to at least 2 concerts every month. By the time the year is over, I'm on track to go to 51 different shows. Based on the statistics, there are some months where I went to many more than 1 show per week, and others where I didn't. Especially apparent are the months with festivals—February, August, and October all included festivals that I attended.
Many of those festivals brought me to new-to-me locations, with the Noise Pop Block Party and Golden Gate Park giving me new perspectives on familiar places, and Lollapalooza after shows bringing me out to Schubas Tavern for the first time in Chicago.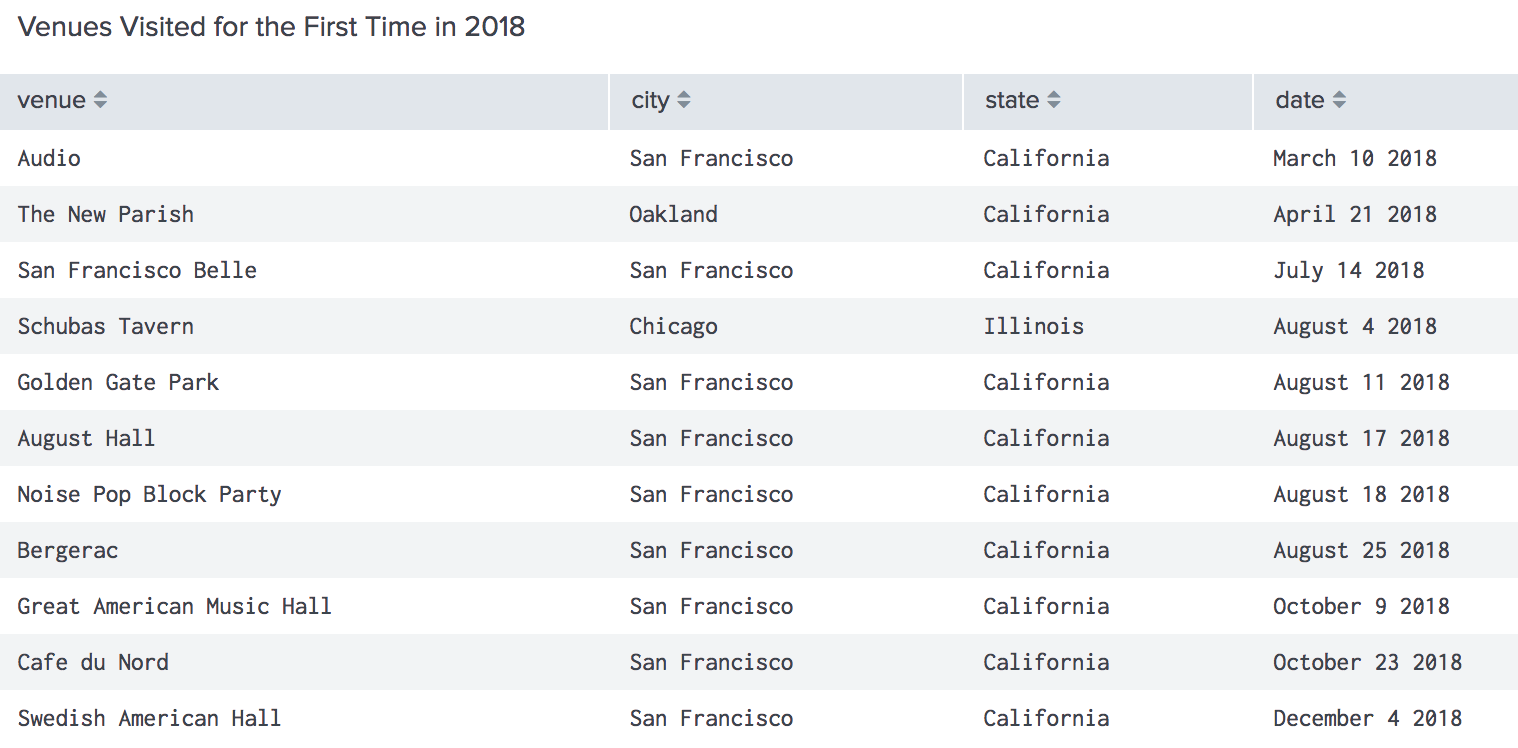 If you're reading this wondering what San Francisco Belle is, it's a boat. That's one of several new venues that electronic music brought me to—DJ sets on that boat as part of Goldroom and Gigamesh's tour, plus a day party in Bergerac and a nighttime set at Audio other times throughout the year.
Some of those new venue locations brought newly-discovered music to me as well.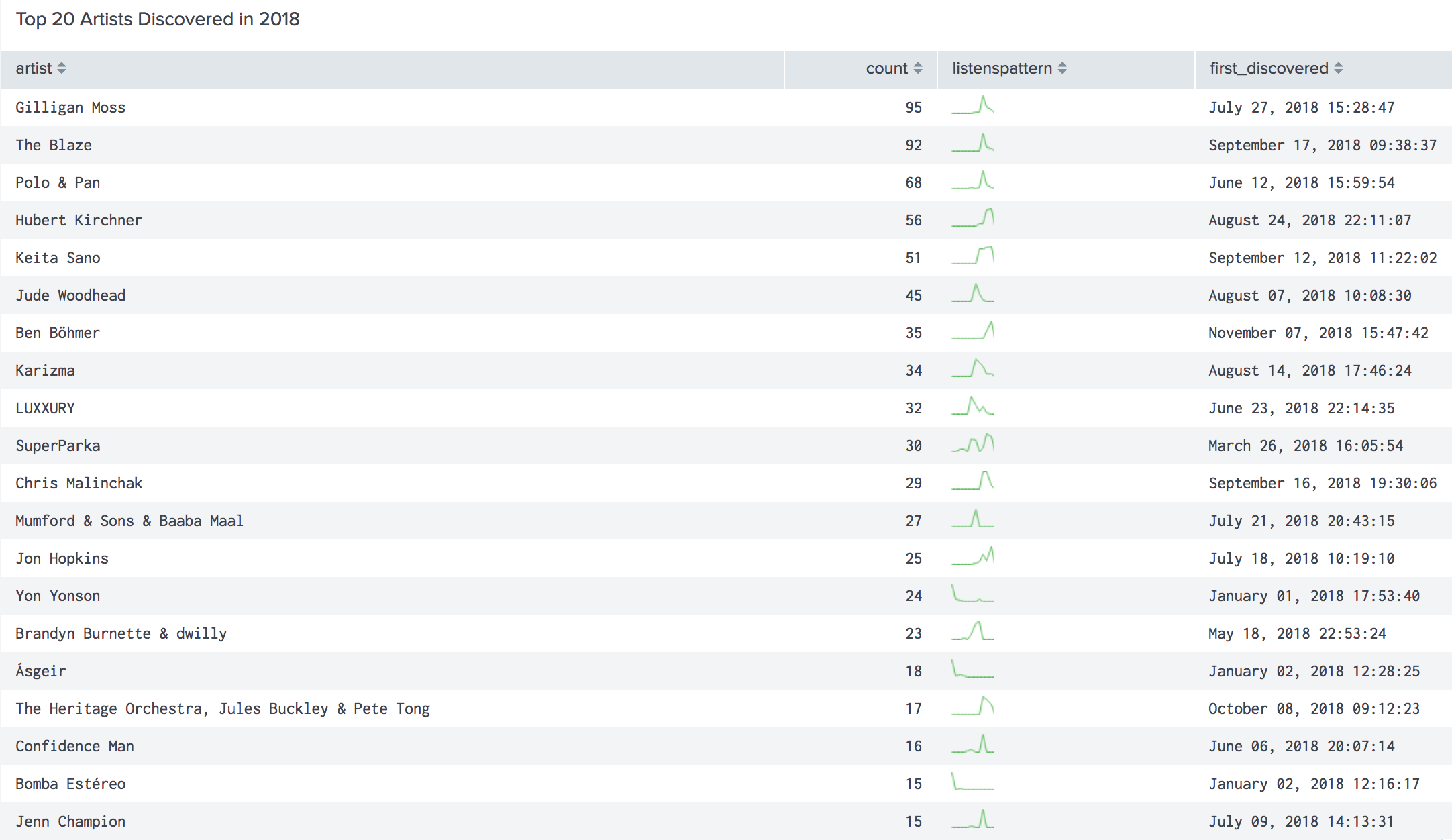 The 20th-most-popular artist I discovered this year was Jenn Champion, who opened for We Were Promised Jetpacks at their show at the Great American Music Hall. I started writing this assuming that I hadn't heard Jenn Champion before that night, but apparently I first discovered them on July 9, but the show wasn't until October 9.
As it turns out, I listened to what is now my favorite song by Jenn Champion that day in July, likely as part of a Spotify algorithm-driven playlist (judging by the listening neighbors around the same time) but it didn't stick until I saw them play live months later. The vagaries of playlists that refresh once a week can mean fleeting discoveries that you don't really absorb.
Other songs I listened to that day in July
Because of how I can search for things in Splunk, I was also curious to see what others songs I heard when I first discovered Hubert Kirchner, a great house artist.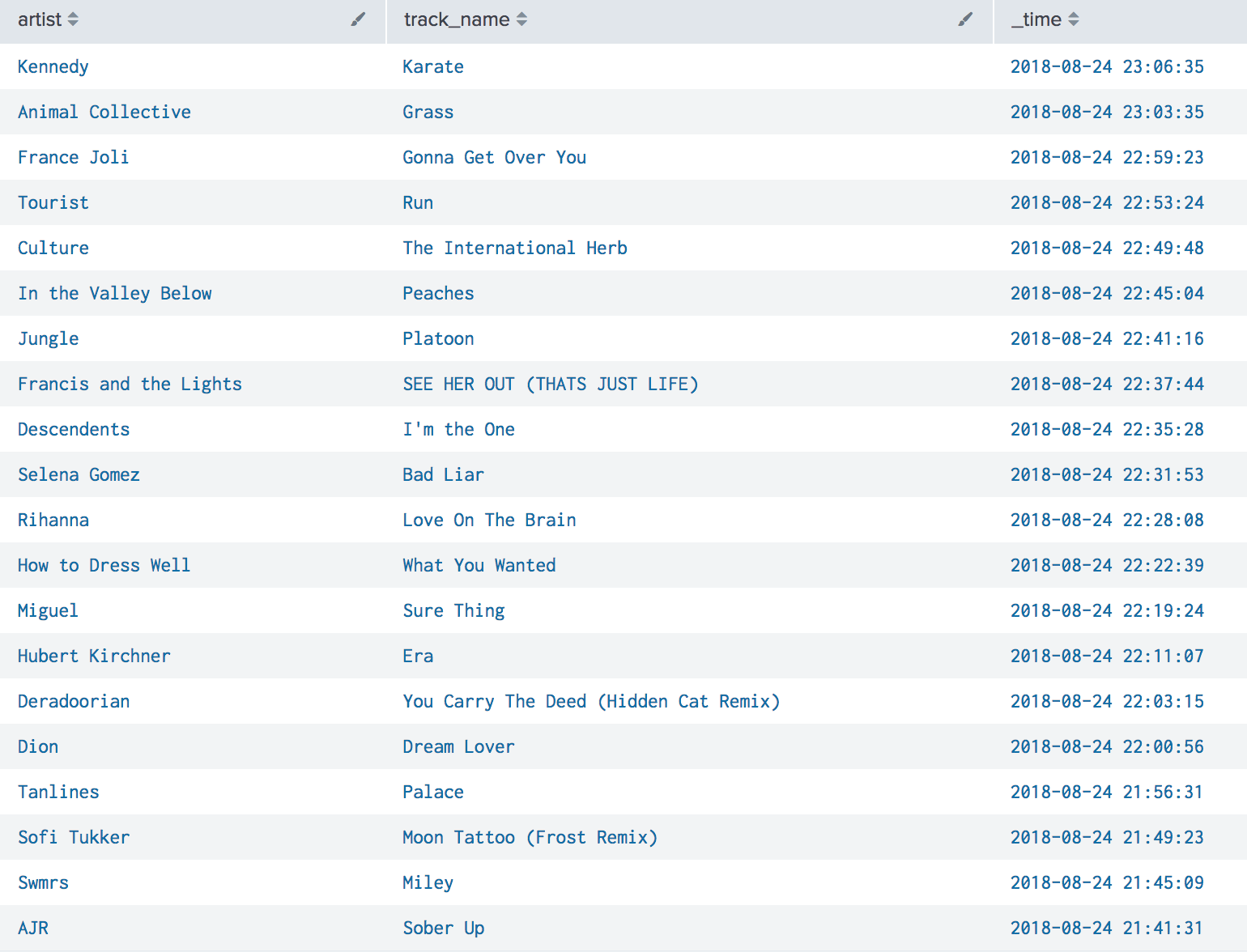 I have really no idea what playlist I was listening to that might have led to me making jumps from Sofi Tukker, to Tanlines, to Dion, to Deradoorian, then to Hubert Kirchner, Miguel, How to Dress Well, Rihanna, Selena Gomez, and Descendents. Given that August 24th was a Friday, my best guess is perhaps that it was a Release Radar playlist, or perhaps an epic shuffle session.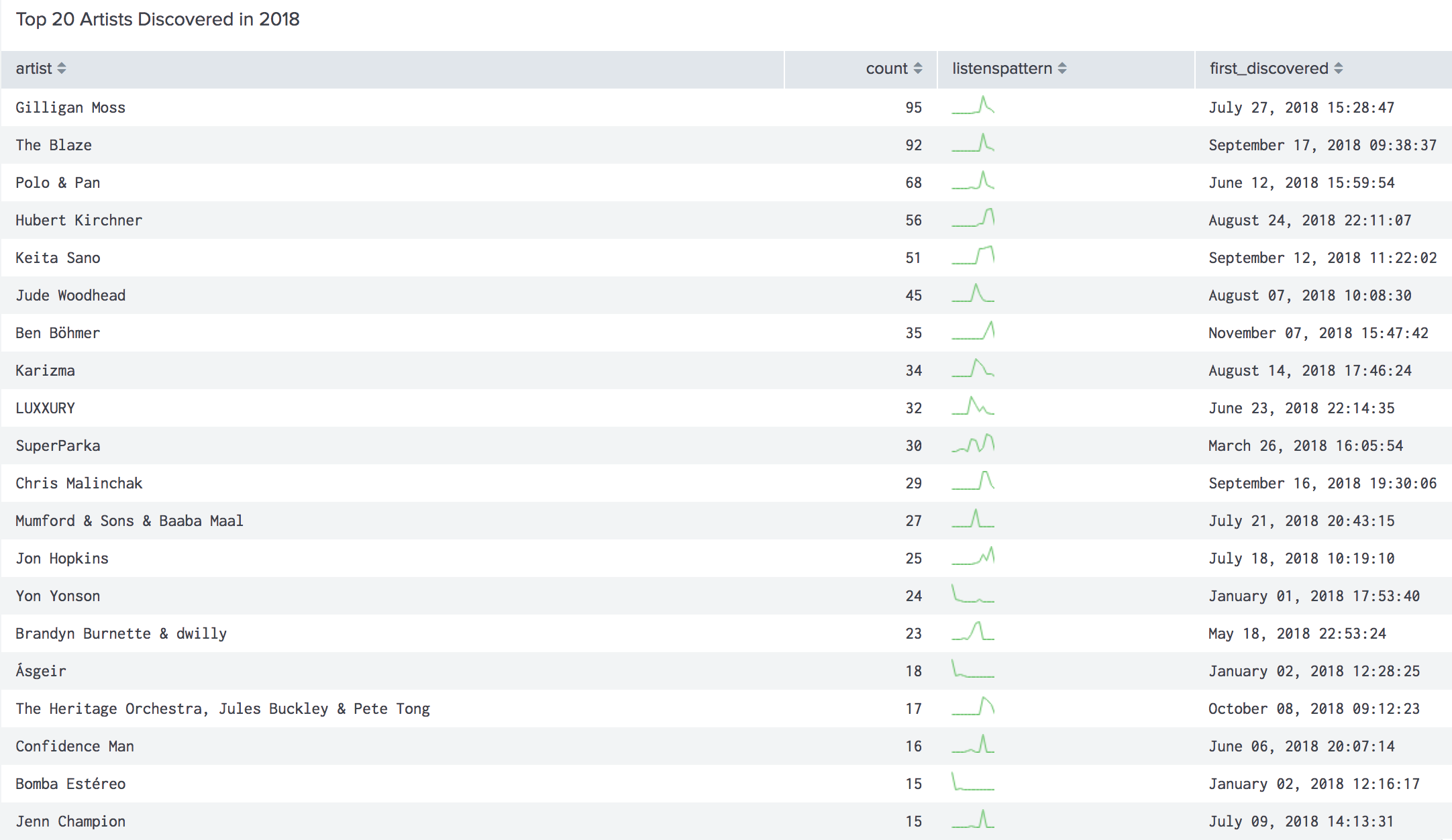 For the top 20 bands I discovered in 2018, many of them I started listening to on Spotify, but not necessarily because of Spotify. Gilligan Moss was a discovery from a collaborative playlist shared with those that are also in a Facebook group about concert-going. I later saw them at one of the festivals I went to this year, and it even turned out that a friend knew one of the band members! Their status as my most-listened-to discovery of this year is very accurate.
Polo & Pan was a discovery from a friend, fully brought to life with a playlist built by Polo & Pan themselves and shared on Spotify. Spent some quality time sitting in a park listening to that playlist and just enjoying life. They were at the same festival as Gilligan Moss, playing the same day, making that day a standout of my concerts this year.
Karizma was a discovery from Jamie xx's set at Outside Lands. I tracked down the song from the set with the help of several other people on the internet (not necessarily anyone I knew) and then the song that was from the set itself wasn't even on Spotify itself (Spotify, however, did help me discover more of the artist's back catalog, like my other favorite song 'Nuffin Else) Apparently I was far behind the curve hearing the song from the set, since it came out in 2017 and was featured in a Chromebook ad, but Work It Out still made me lose my mind at that set. (For the record, so did Take Me Higher, a song I did not manage to track down at all, and have so much thanks for the person that messaged me on Facebook ages later to send me the link!)
Similarly, Luxxury was a DJ I first spotted on a cruise that I went on because it featured other DJs I had heard of from college, Goldroom and Gigamesh, whom I'd discovered through remixes of songs I downloaded from mp3 blogs like The Burning Ear.
~ Finding Meaning in the Platforms ~
Many of these discoveries were deepened by Spotify, or had Spotify as a vector—through a collaborative playlist, algorithmically-generated one, or the quick back-catalog access for a new artist—but don't rely on Spotify as a platform. I prefer to keep my music listening habits platform-adjacent.
Spotify, SoundCloud, iTunes, Beatport and other music platforms I use help make my music experiences possible. But the artists making the music, performing live in venues that I have the privilege to live near and afford to visit, they are creating what keep my mind alive and energized.
The social platforms too, mediate the music-related experiences I've had, whether it's with the people I share music and concert experiences with in a Facebook group, the people I exchange tracks and banter with in Slack channels, or those of you reading this on yet another platform.
I like to listen to music that moves me, physically, or that arrests my mind and takes me somewhere. More now than ever I realize that musical enjoyment for me is an intense instantiation of the continuous tension-and-release pattern that exists in so many human art forms. The waves of neatness that clash and collide in a house music track, or the soaring crescendos of harmonies.
It's become clear to me over the years that I can't separate my enjoyment of music from the platforms that bring me closer to it. Perhaps supporting the platforms in addition to the musical artists, performers, and venues, is just another element of contributing to a thriving music scene.