Wrapping up the year and the decade in music: Spotify vs my data
Spotify's 2019 Wrapped aims to give you an overview of your past year's listening habits. It proclaims: these were your top 5 tracks and artists! You spent this much time listening to your favorite artist!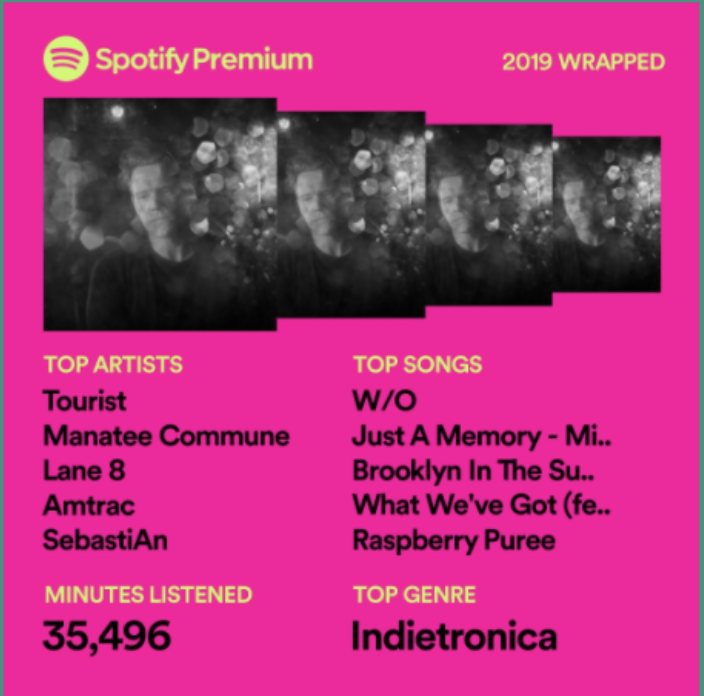 This year (the last year of the decade) they also expanded to all of the 2010s, sharing the top artists and tracks for each year in the decade that you used Spotify.
Because I have my own data that combines Last.fm listening data, my iTunes music library, and concert-relevant activities, this is my comparison of Spotify's data with my own listening habits (more exhaustively tracked).
I have Last.fm set up to monitor Spotify, but also tracks that I listen to in Google Chrome, using the Music app on my iPhone, and local iTunes listening on my personal laptop. Spotify, of course, just sees Spotify.
According to Spotify, my top 5 artists were:
Tourist
Manatee Commune
Lane 8
Amtrac
SebastiAn
According to my own data, my top 5 artists were:
Tourist
Lane 8
Benoit & Sergio
The Vaccines
Litany
Manatee Commune was just 4 listens behind Litany, with 76 total listens for the year so far. It's an impressive showing from them, considering that I never ended up purchasing any tracks by them. I own full albums or several tracks by all the other artists in both of my top 5 lists, making it easier for me to rack up listens—I listen only to music that I own or untrackable DJ sets in SoundCloud while I'm mobile.
The track stats are where my data really starts to differ from Spotify's… 
My top 5 tracks according to Spotify are:
Wow that's a lot of Manatee Commune! Let's see how the listens of those tracks stack up:
Manatee Commune - W/O | 10 listens
Odesza - Just A Memory (Mild Minds Remix) | 7 listens
Aloe Blacc - Brooklyn in the Summer | 8 listens
Manatee Commune - What We've Got (feat. Flint Eastwood) | 11 listens
Manatee Commune - Raspberry Puree | 10 listens
What were my "actual" top 5 songs of 2019?
I'll cheat and go to my top 7 because my first 2 top 5 songs just prove that I struggled to sleep a lot and listened to my Insomnia playlist…
Pretty stark difference in those lists and those numbers. Manatee Commune is nowhere in sight. A large reason for that is because my listening pattern with Manatee Commune almost perfectly lines up with seeing them live (indicated by the orange triangle and dotted line):

But enough about Manatee Commune. Let's talk about the real star of 2019: Tourist! All of the data agrees that he was my top artist of 2019. I saw him twice in concert (and I'll see him again in a couple weeks). 
I've listened to him sporadically since 2012, first listening to a track of his in December 2012, discovering a few tracks every few years following, until I saw him live in March this year. You can see what happened after that in this graph:

Interestingly enough, I went to that show in March 2019 to see Gilligan Moss, who made my top 10 artists last year and were my most popular newly-discovered artist of 2018. If I hadn't discovered them last year, I probably wouldn't have gone to that show at all, and this year would have been completely different. 
Spotify claims that I spent 8 hours listening to Tourist this year. My own data? Rough calculations estimate that I've spent 15 hours and 15 minutes listening to Tourist. To put that in perspective, I spent at least 238 hours listening to music this year. At least 6% of my total listening time was spent on this one artist. Nice.
[I calculated this by counting the listens for specific tracks in my Last.fm data, then looking up the lengths of those tracks in my iTunes data and multiplying the number of listens by the track lengths. Of course this means that I'm not even considering the tracks that aren't in my library, since I'm missing that metadata.]
According to Spotify, my favorite Tourist song was "Too Late - Continuous Mix". If I consolidate the two similar tracks in my data (data consistency is hard), that's also true overall—that track has 24 listens so far (which would actually make it #4 on my top tracks of the year). 
To move beyond Tourist, Spotify also told me that I discovered 1503 new artists, and that Plastic Plates were my favorite of those. Meanwhile in my data, I see that I discovered 2857 artists this year (probably at least 100 of those are random Youtube videos that got mis-filed), with my top 5 discoveries being:
Benoit & Sergio with 86 listens
Kölsch with 55 listens
warner case with 39 listens
Parra for Cuva with 38 listens
Lindstrøm with 28 listens
According to my data, I only listened to Plastic Plates 3 times this year after discovering them on January 2, 2019.
You can see more details about my new discoveries, along with a sparkline of my listening patterns for those artists throughout the year, in this table: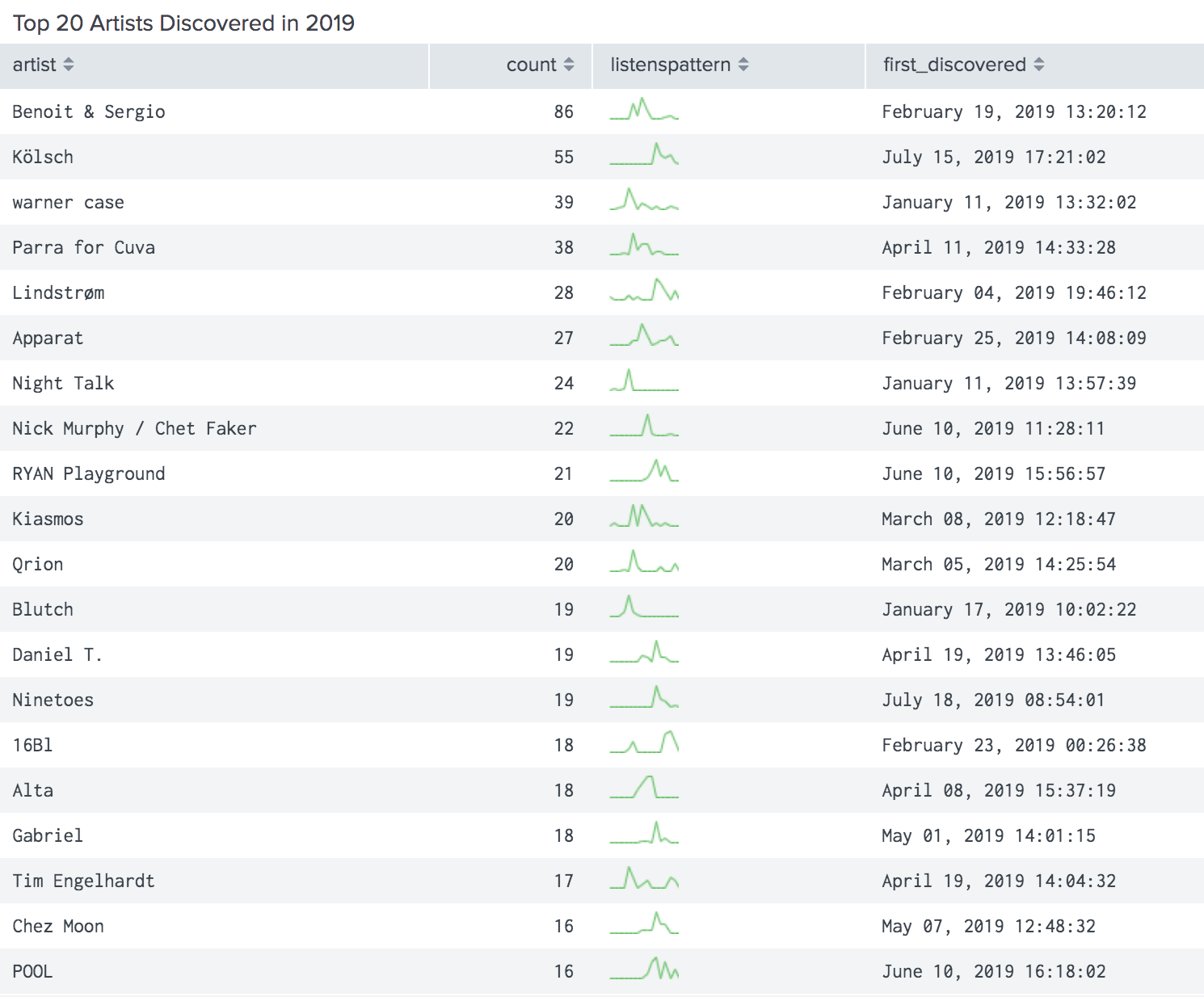 I spent 35,496 minutes listening to music this year, according to Spotify. Spotify's data is much better than mine in this respect (100% coverage of metadata!) because my data tells me I only spent 14,296 minutes listening to music. In reality, it's probably closer to the sum of those numbers. 
What else happened in 2019 that Spotify doesn't know about?
My top 10 albums of the year: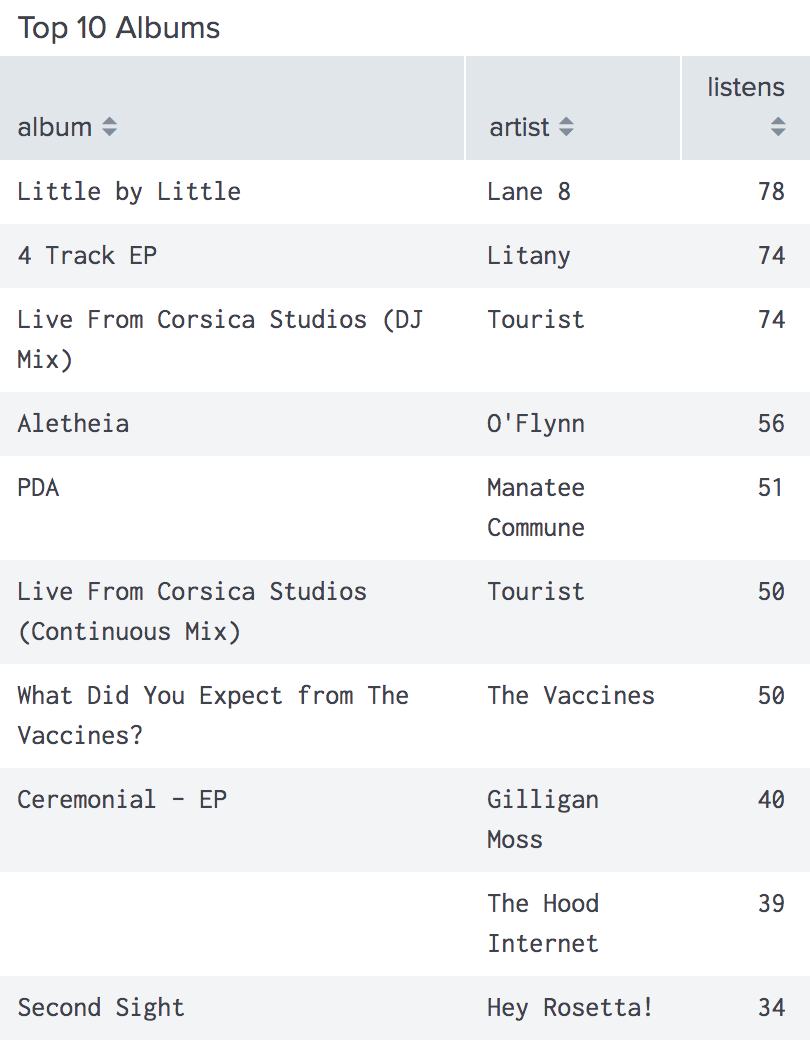 This is where you can see data struggles once again. Those two Tourist albums are essentially the same album, just differently-named in Spotify vs iTunes, so that is actually my most-listened-to album of the year. The Hood Internet metadata was incomplete when they shared their 1979-1983 mashup tracks on SoundCloud, so the free downloads that I added to my iTunes library show up without an album. Which is actually technically correct.
In addition to those top 10 albums, here is an area graph showing the total listens of my top 10 artists over 2019:

That looks somewhat exciting until you see those numbers stacked against all the other artists I listened to this year:

I added 344 new tracks (so far) to my iTunes library, and listened to 5,902 different tracks a total of 9,823 times (so far). I went to 49 concerts (with my 50th of the year lined up for tonight!) seeing a total of 136 artists (so far). Numbers!
My most frequented-venues of the year were 1015 Folsom and Audio, followed closely by the Fox Theater, Great American Music Hall, and The Fillmore. The artist I saw most frequently was Teh Raptor (DJ sets), soon to be tied by Tourist when I see him for the third time (in general and in 2019) in a couple weeks.
Spotify was also able to tell me some things that I can't yet identify, namely that I listened to artists from 73 different countries. I'm hopeful that next year I'll have additional metadata from the MusicBrainz database set up and correlating with my Splunk indexes.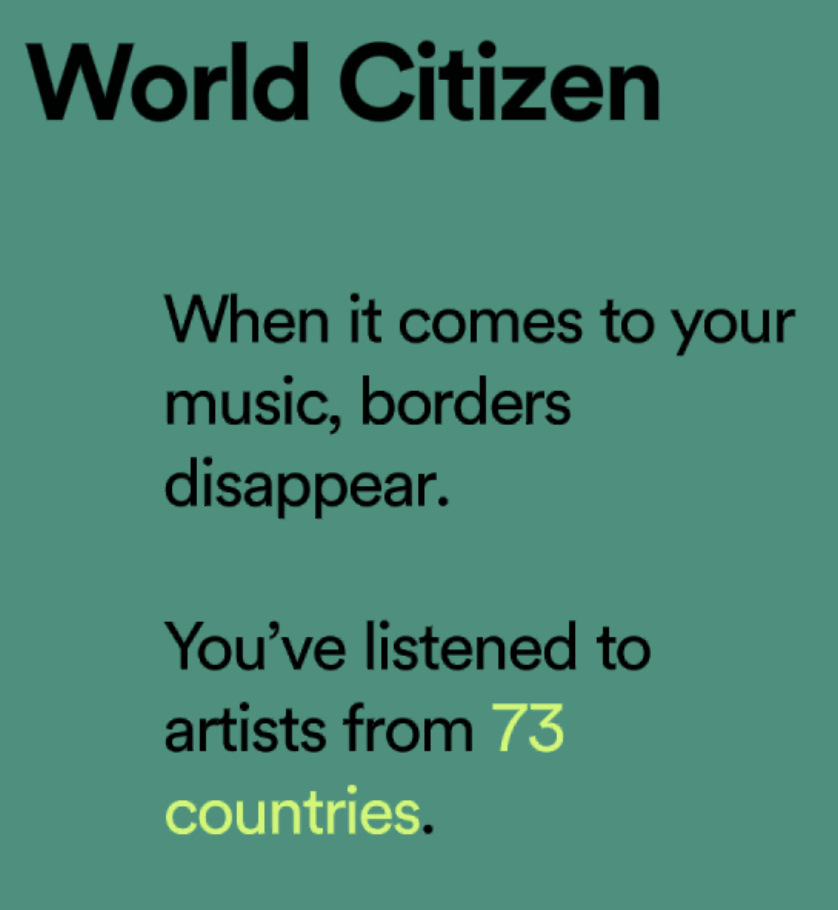 The 2010s: Best of the Decade
Because 2019 is the last year of the decade, Spotify also added some stats for the entire decade to their #wrapped feature.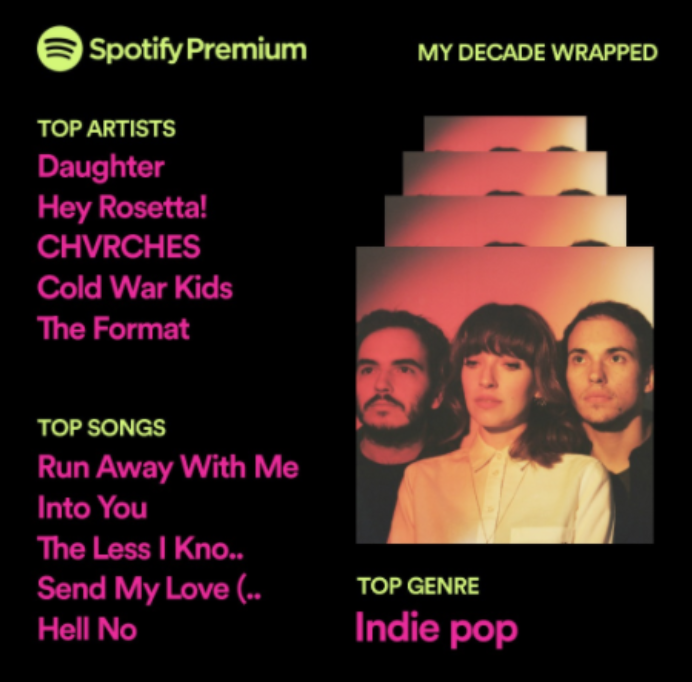 My top 5 artists of the 2010s according to Spotify are:
Daughter
Hey Rosetta!
CHVRCHES
Cold War Kids
The Format
According to my data, these artists are my top 5 of the 2010s:
Hey Rosetta! with 1162 listens
Alkaline Trio with 803 listens
Cold War Kids with 743 listens
Manchester Orchestra with 721 listens
CHVRCHES with 674 listens
Motion City Soundtrack just barely missed out on the top 5, with 673 total listens. The Format, meanwhile are in 10th with 493 total listens. Daughter didn't make my top 10, but are instead 24th with 314 total listens for the decade.
My top 5 songs of the decade according to Spotify are:
According to my own data:
Hey Rosetta! - Trish's Song | 114 listens
Hey Rosetta! - Kintsukuroi | 102 listens
Hey Rosetta! - The Simplest Thing | 95 listens
Carly Rae Jepsen - Run Away With Me | 93 listens
CHVRCHES - High Enough to Carry You Over | 90 listens
It's probably then no surprise to learn that my top album of the decade is Hey Rosetta!'s Second Sight, which features the first 2 songs of my top 5 of the decade, and came out in 2014. My other top albums of the decade: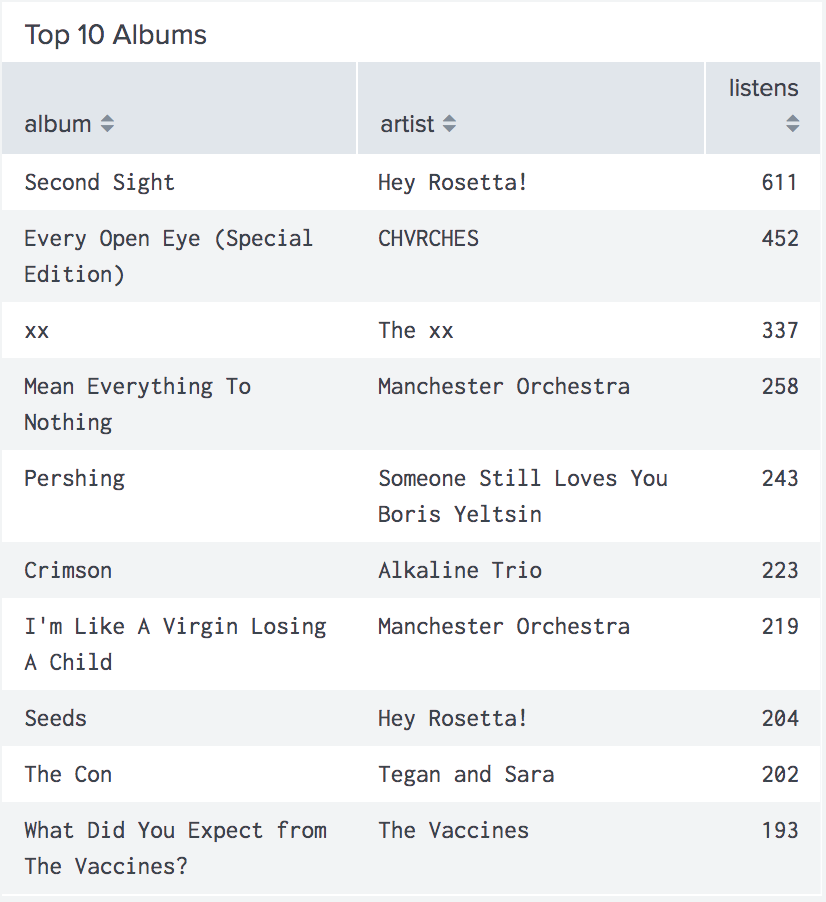 According to Spotify I've been using their service since 2011, but I think it's actually more like 2013—and this is borne out in their data. They list my top tracks and artists for the decade only starting in 2013. Let's compare!
I added extra lines for the years when "Trish's Song" took the top spot because that song is a lullaby and I listen to it accordingly—so perhaps I should consider the second place song as the "true" top song for that year.
Fun fact, my fifth-most-listened-to track of 2014 is The Riff-Off from Pitch Perfect. I watched it so many times on YouTube y'all now have some idea how obsessed I was (am).
In 2016, Run Away With Me by Carly Rae Jepsen took the top track slot by 1 listen. Ariana Grande's Into You trailed with 77. Those 2 tracks were on a playlist of only 4 tracks that I listened to a LOT that year. The other 2 tracks from the playlist were my 4th- and 5th-most-listened tracks of the year: Ingrid Michaelson's Hell No with 52 listens and Adele's Send My Love (To Your New Lover), also with 52 listens. 
My top artists for each year of the past decade are as follows, comparing Spotify's data with my data. I gotta say, I wasn't expecting to see Taylor Swift take the top spot for 2014.
| Year | Spotify | Total Listens | My Data | Total Listens |
| --- | --- | --- | --- | --- |
| 2010 | - | - | Alkaline Trio | 352 |
| 2011 | - | - | Tegan and Sara | 236 |
| 2012 | - | - | Smoking Popes | 241 |
| 2013 | The Format | 9 | Cold War Kids | 57 |
| 2014 | The Format | 69 | Taylor Swift | 108 |
| 2015 | Hey Rosetta! | - | Hey Rosetta! | 591 |
| 2016 | Jason Derulo | 179 | Hey Rosetta! | 332 |
| 2017 | Cold War Kids | 156 | The xx | 166 |
| 2018 | Poolside | - | Poolside | 162 |
| 2019 | Tourist | - | Tourist | 251 |
My music listening habits (and possibly also my data fidelity) dropped dramatically in the early/mid-2010s, which is why those numbers are so different compared with other years. 
It's fun to see my overall trend in top artists for the decade. It's almost like the 2013/2014 dropoff in music listening also coincided with a pivot in terms of what artists I was listening to.

I was also in college until 2012, but Manchester Orchestra and Alkaline Trio and Someone Still Loves You Boris Yeltsin almost totally drop out of the listening patterns after 2013, taken over by Hey Rosetta!, CHVRCHES, The Format, and The xx resurging in 2017.
In total I listened to 27,068 unique tracks 100,240 times since 2010, spending 223,350 minutes (at least) listening to music. I purchased a total of 772 songs from the iTunes store in the last decade, with nearly half of those purchases happening this year.

Considering those total minutes spent listening, Spotify also shared minutes spent listening data all the way back to 2015! I've already talked about why my data is so different from Spotify's (~ incomplete metadata ~) but here's how the numbers compare:
| Year | Spotify | My Data |
| --- | --- | --- |
| 2015 | 11,834 | 20,462 |
| 2016 | 28,659 | 19,959 |
| 2017 | 26,137 | 13,919 |
| 2018 | 35,655 | 16,737 |
| 2019 | 35,496 | 14,296 |
It's fun to review the artists that I've discovered in the past decade, with Hey Rosetta!, CHVRCHES, Mumford & Sons, Two Door Cinema Club, and Daughter taking the top 5 spots.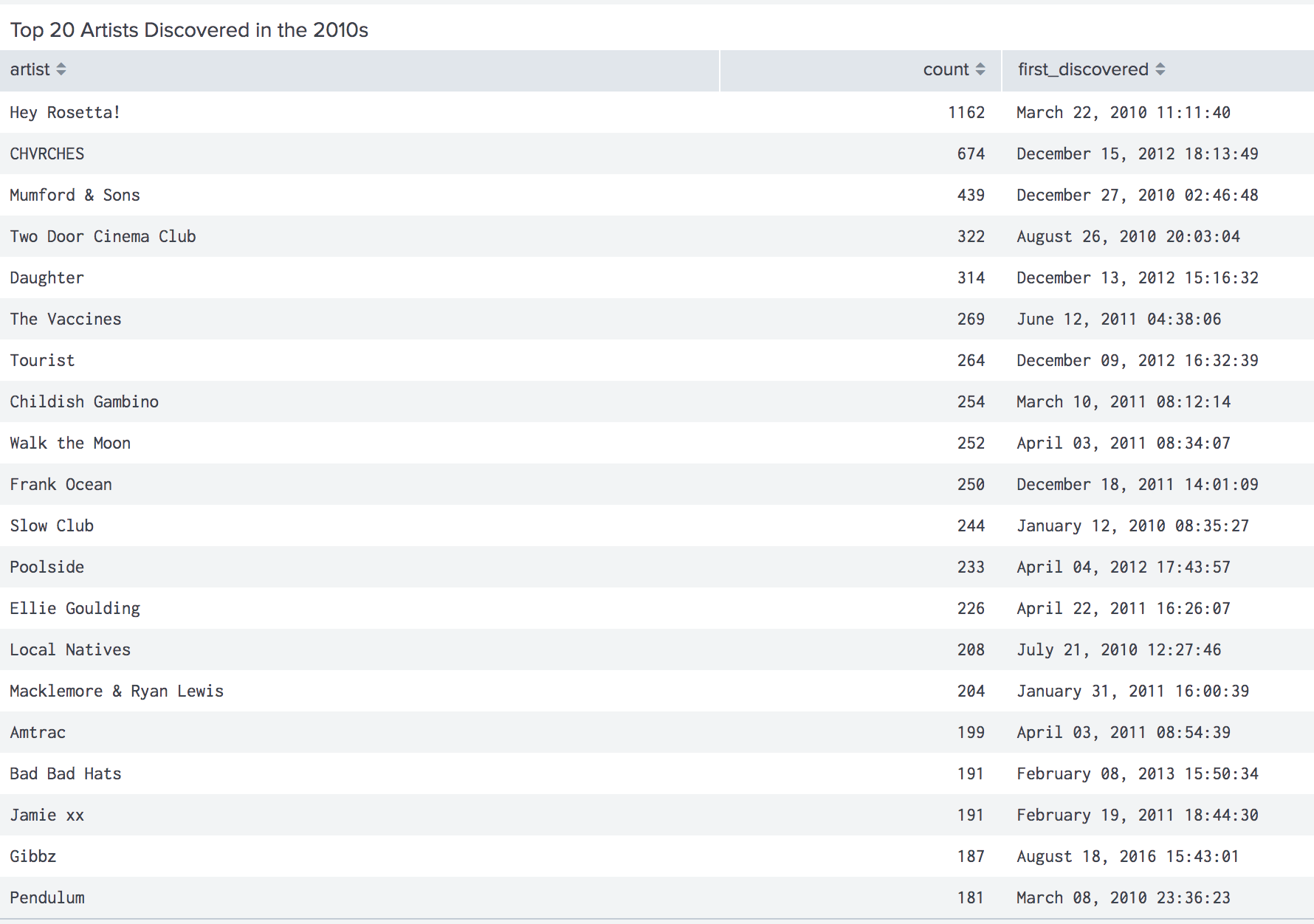 I've attended 163 concerts so far in the last decade, seeing a total of 404 artists The distribution of those concerts and artists over time is interesting to look at as well: spikes while I was in college, but not really taking off until I moved to San Francisco and joined a concert community group in the area.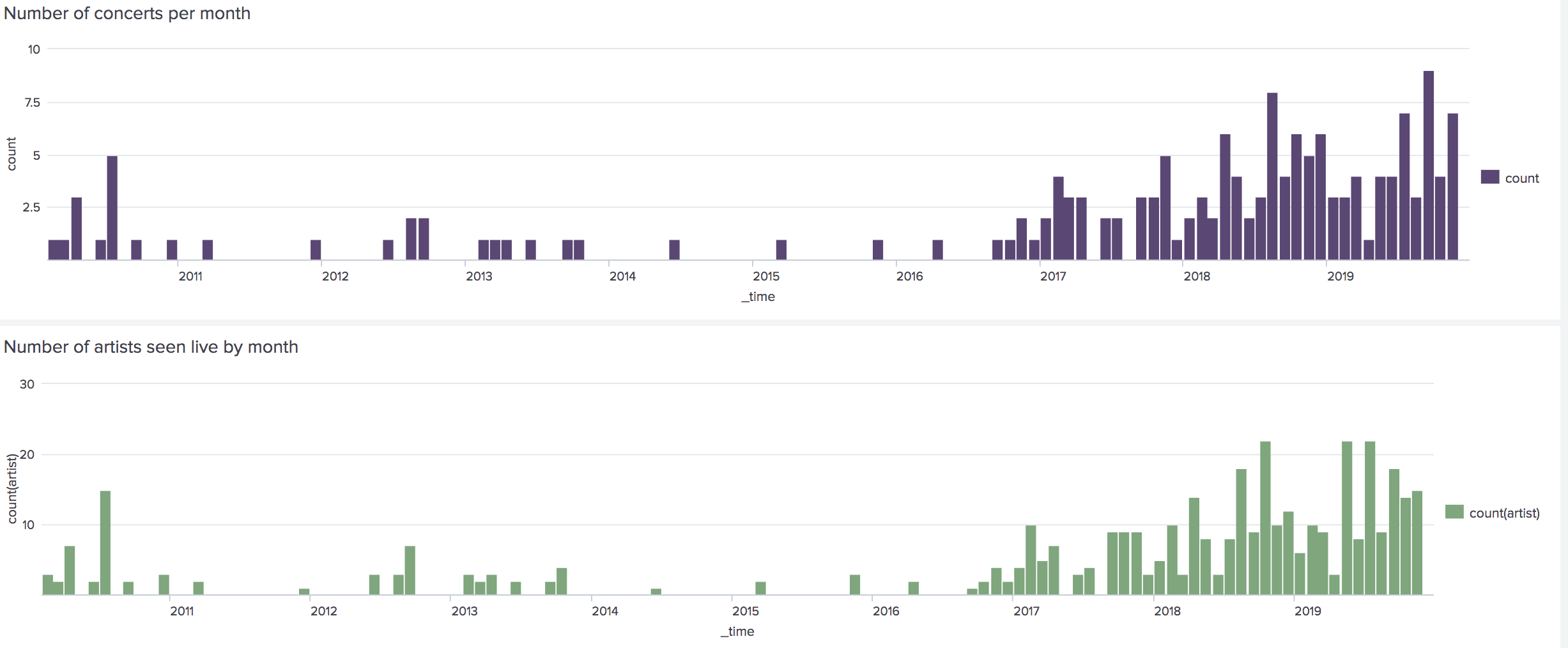 I saw several artists multiple times throughout the decade, some as supporting acts (Future Feats, who I saw as an opening act 3 times, despite not enjoying their sets) and others as a combination of supporting and main acts (such as Smoking Popes).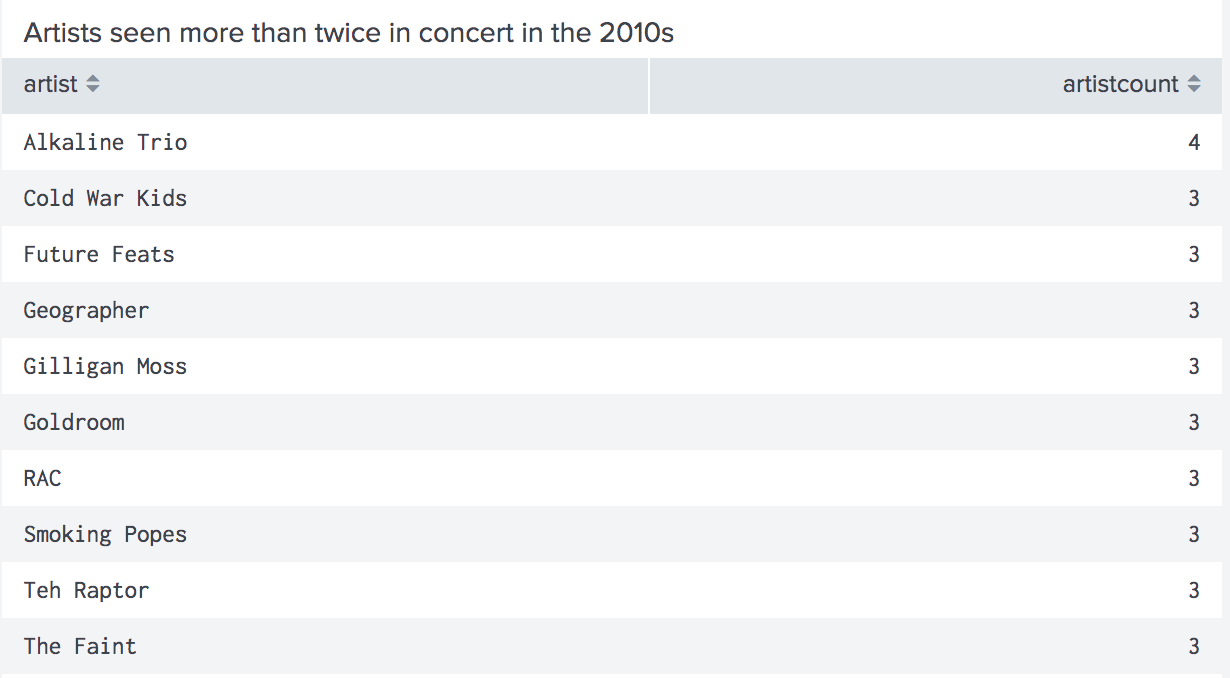 My most-visited venue of the decade was The Independent, which I've been to 14 times. I don't think I made it to a single show there in 2019, but hopefully I'll be back for a 15th visit soon.
This has been a lot of data. I shared a similar roundup last year around this time, My 2018 Year in Music: Data Analysis and Insights. It's fascinating to look back at the entire decade and reflect on how my life has changed, how my music taste and listening habits have shifted (or not) over time, and see the influence of live music attendance in my listening patterns and popular artists. Whether I'm using Spotify, iTunes, the Music app on my phone, SoundCloud, YouTube, or seeing live music, I'm glad I have music in my life.