I'm going to expand on some tweets of mine from earlier today aboutthis blog post.
Cristina Vanko spent a full week responding to all texts sent to her with hand-lettered calligraphy notes, which she then photographed and sent back as her response.
There is a vintage nostalgia element to practicing something of this nature, a throwback akin to the resurgent popularity of vinyl or of the constructed "aged" photo filters as examined extensively by Nathan Jurgenson, and one of her friends recognizes this with the comment "old schoo+new school":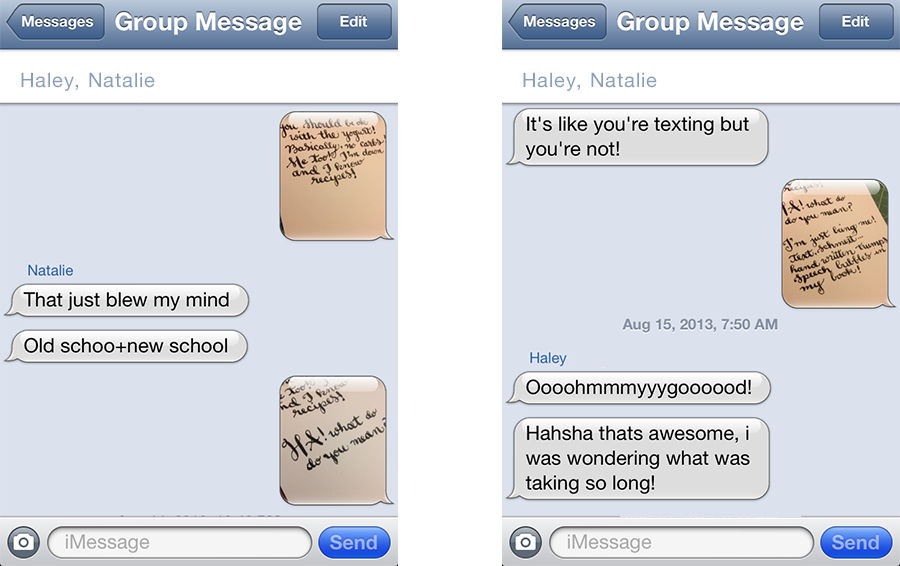 The vintage nostalgia of writing out a text lends credence to the "digital detox" movement in a unique way. Cristina is disengaging from traditional digital practice, and yet still practicing the act and art of communication, but on her own, slower terms.
The literal slowness of this mode of communication is recognized by another friend, who relates the immediacy expected from the texting medium, observing that she was wondering what was taking so long to receive a response. Text messages are expected to garner a more immediate reply, and when it takes longer (to construct a thought, craft a reply, or in this case, write out a response) then people begin to formulate suspicions about why a response has not yet been received.
Given their immediacy and sometime superficiality, texts are seen as something fleeting, something ephemeral, and translating them (or transliterating them) into calligraphy produces something weightier and more tangible. Quite literally, as Cristina records her output with this photo of many of her "texts" sent throughout the week: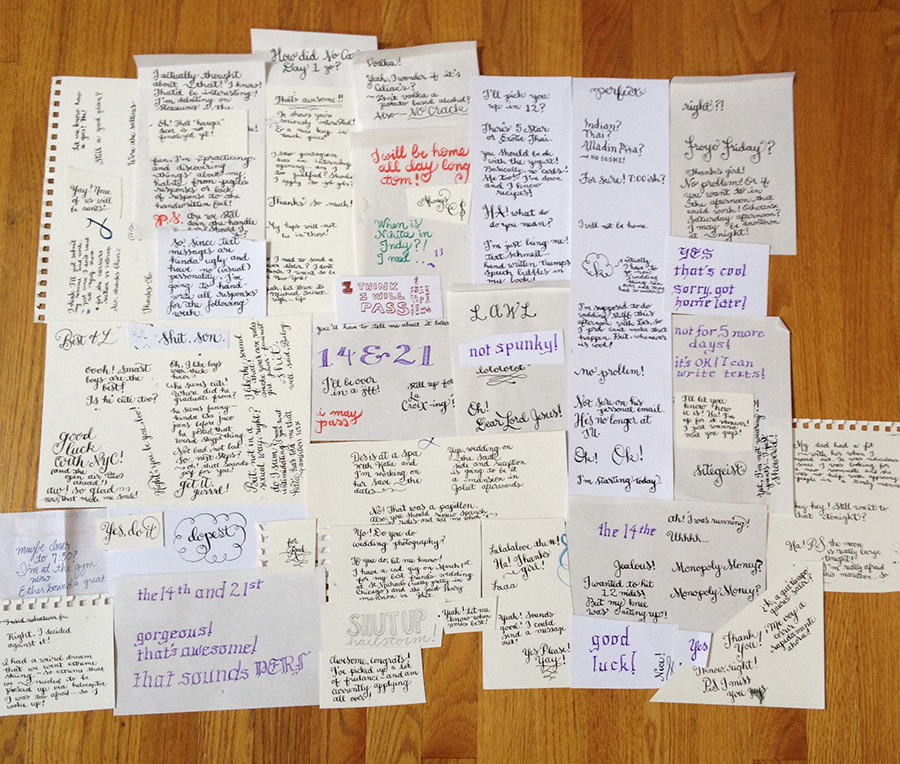 via Modern Day Snail Mail by Cristina Vanko
When you text, you don't think much about what you're actively producing, because it all goes into the "cloud" and it's a short, simple message, as though you are having a conversation. Cristina pointed out something new that happened while she was handwriting her texts, indicating that (as part of a larger list):
My messages sent were more thoughtful in the "I used complete thoughts" type of way. 7) You look super silly if you completely ignore all that you learned in English classes. Impeccable grammar and flawless spelling is necessary for a handwritten note.
However, for the most part what Cristina was texting didn't change–only the medium of expression–and that is important as well. Texting is important and a valid means of communication, and by blending it with a more Victorian medium of calligraphy, the texts became more substantial in effect, but no more substantial in content, with Cristina still choosing to text "K" and "Lawl" back to her friends.
Writing her texts down made them more real, and required more thought, than a text quickly fumbled through on a digital keyboard, and while her friends recognized the delay (and wondered about it), they also recognized the part it plays in adopting what is old into what is new. Through her texting experiment, Cristina crafted a new understanding of an "old" medium, and incorporated elements of "slow media" and "digital detox" while still engaging in a fully digital and new medium.